Specialty Floors: Specialty Floors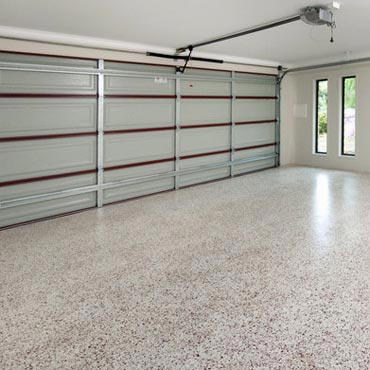 Specialty flooring for the public space
Choosing the right specialty flooring is a top priority for interiors designers and specifiers to insure the well being of the work environment and provide special performance features in many public buildings. Slip resistances, sterility, ergonomics, acoustics, static-control and energy efficiency are only a few of the reasons for using specialty flooring in the workplace and public facilities. Also, compliance to legislation and municipal guidelines mandate specialty flooring products.
Slip and fall accidents are without a doubt the most critical safety aspect of flooring. To meet guidelines established by the ADA, slip-resistant floors must be installed in handicapped-accessible spaces. Slip resistance is described in terms of coefficient of friction (COF) ratings, with level surfaces needing a COF of 0.6 and ramps needing a COF of 0.8.
The use of specialty flooring is critical in healthcare market segment. Hospital operating rooms, laboratories, and critical care units need specialty flooring to ensure a sterile environment. Specialty floor coverings play a critical role in making sure medical procedures are performed in sanitary environments. These floors are designed to limit, if not eliminate, surfaces where infection or micro-organisms can get a toehold. These include the growing category of antibacterial, antimicrobial, and antifungal floors. The physical composition of these floors is inherently more sanitary, and they are engineered to withstand rigorous maintenance materials and procedures that ensure continued sanitation.
Ergonomically, cushioned floor coverings provide personnel some measure of comfort when they must spend hours standing in one position or area. Acoustic floors make the workplace more effective by controlling overall sound transmission and absorption, and contribute to sound clarity and privacy in cubicle environments. Energy efficient buildings with few or no exterior windows benefit from special light reflective specialty flooring. These floors have built-in fluorescence and are designed to illuminate an area during a power failure. Static-control flooring protects equipment and, more importantly, people from the harmful effects of static by either dissipating the charge or conducting it safely away. In a growing number of cities and municipalities, using green building materials, including flooring, is mandated. This may include everything from floor ingredients to floor disposal and/or recycling programs.
Specialty flooring for the home
Specialty flooring offers attention grabbing choices when selecting a new floor for your home. Specialty flooring has been used commercially for years, but has recently been introduced as a smart alternative for a residential interior. Specialty floors not only look smart but have enhanced physical characteristics and unique properties to fulfill the requirements of special spaces and niche areas of your home. To find great examples of specialty flooring just visit your favorite boutique or trendy uptown restaurant. Innovative interior designers and decorators are catching up to the benefits of using specialty flooring in many areas throughout the home. Specialty floors can transform an ordinary interior into an amazing, stimulating, and more enjoyable space. Some specialty floors used in the home are leather, metal, and concrete.
Brand Overview
---

---
Profile
|
Website
At Flexco we help make your dreams come to life with flooring products that let you express fully your inspiration. Our extensive line of quality rubber and vinyl wall base, tile floors, and stair treads makes it easy to spec the perfect floor, every time.