About Harris Wood® Floors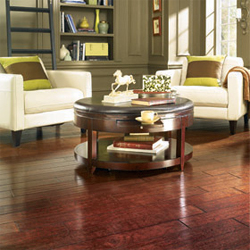 Harris Manufacturing was founded by the William Pond Harris in 1898 as a small hardwood company, supplying materials to the building industry. In 1902, W.P.'s son, Allen Harris, entered the business, focusing on the New York City market. Harris Flooring became a major presence in the strip flooring business throughout the early 1900's. Many original hardwood floors still exist in luxury apartments in uptown Manhattan.

When home building slowed due to World War I, Harris adapted his facility to also make handcrafted persimmon golf club shafts, cannon ramrods, and broom handles. The post-war housing boom was a time of significant growth for Harris Manufacturing, until another demand reduction was caused by World War II. This time they survived by producing flooring for on-base army housing, as well as over 22 million U.S. Army tent pegs.

That strong performance, during difficult war years, positioned the company to take full advantage of the pent up demand that exploded after the war. By now, Allen Harris Jr., the third generation of the Harris family, was leading the company into what is now considered to be a hardwood flooring tradition. Merging with Tarkett International in 1983 expanded its focus as part of an international, broader flooring company. It added Engineered and Longstrip Hardwood to its flooring product line.

In 2007, the Harris-Tarkett hardwood flooring business unit was purchased by New Stream Capital Investment. Renamed ArborCraft, it returned to its roots as an American-owned, domestic hardwood flooring manufacturer. It has two brands in the marketplace today: Harris Wood and Tarkett Wood.
---
---