Custom Building Products Photos
About Custom Building Products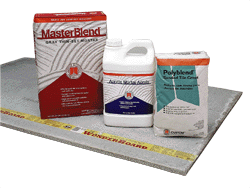 Throughout our 30-plus years in business, our customers have come to rely upon us for our high quality products and unparalleled service and support. We believe in more than just manufacturing a product. We believe in continually moving forward with improved products that are easier to use, work better and last longer. Because we measure our success by your satisfaction, we feel it's equally important to provide reliable service and expert technical support. So you have not only the right tools for the job, but the peace of mind that comes from knowing they're being used properly.
Whether it be products for tile and stone installation, tile and stone care, floor preparation or homeowner patching and repair, we take pride in the fact that none of our products have been compromised to meet too wide a range of applications. Instead, each has been specifically formulated to set the industry standard, giving you exactly the right product for the specific job you're performing.
In the case of tile installation products, we offer the industry's only Lifetime Warranty - just goes to show the degree to which we stand behind our products. As the company often referred to as the Foundation of the Tile Industry we also offer an extensive information resource system, vital to assuring proper tile installation in the field. One example is our A.S.K. (Architectural Specifications Knowledge) program, giving architects quick access to valuable information and on-the-spot answers.
We're proud of where we've been and where we're headed. And we're proud to deliver to you the industry's finest products so you can do your best work.
---
---