Solid Hardwood vs. Engineered Wood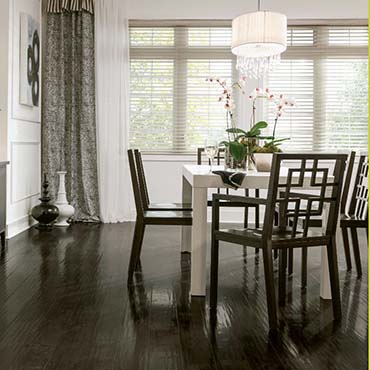 Many hardwood shoppers don't realize there are two types of wood — solid and engineered. Both solid and engineered flooring add value and structure to your home and are available in plenty of species, stains and styles. So, what exactly are these two types of hardwood and how do they compare? Let's explore.
What is Solid Hardwood?
Many homeowners aspire to own solid hardwood flooring for its authenticity, timelessness and durability.
Our solid hardwood flooring is constructed with 100% hardwood and each plank is a single solid piece. At Armstrong Flooring, we source all of our solid hardwood in the USA to support American workers and their fine craftsmanship, and ensure the highest possible quality. Our primary source for wood is the Appalachian region. Appalachian hardwood is preferred for its consistent color, more refined grain, and better stability.
Armstrong Flooring's solid hardwood flooring is durable and reliable, making it a wonderful investment that will enhance the value of your home and provide beauty for a lifetime.
What is Engineered Hardwood?
Engineered hardwood floors are made up of layers. The top layer is 100% natural wood, which comes in a variety of species. The bottom layer is also wood. In the middle is a core built from 5 to 7 layers of plywood that crisscross in different directions.
Engineered construction creates a highly stable core that is less likely to expand, contract or shift when exposed to moisture, humidity and temperature. This makes engineered wood flooring a great option in rooms that are subject to moisture (like basements) or over concrete slab and radiant heating systems.
How do design options differ between engineered and solid hardwood?
Solid Hardwood: You'll find a huge selection of solid hardwood to bring to life your personal style and décor, from traditional hardwood to on-trend colors to hand-scraped wood. The widest solid flooring available is 5", a moderate width that strikes a balance between the extra wide-plank trend and classic looks.
Engineered Hardwood: With a few exceptions, engineered wood flooring is available in a wide range of styles, ranging from traditional to specialty designs with features like multi-tonal colors and handcrafted tool markings. Certain looks, such as extra-wide planks, may only be possible with engineered wood.
Where can I install solid and engineered hardwood floors?
Solid Hardwood: Solid is a great choice for the first and second floors, enhancing living spaces such as living rooms, dining rooms, kitchens and bedrooms.
Engineered Hardwood: Engineered wood is an excellent choice for areas where solid hardwood cannot be installed, like in basements, over concrete floors or over radiant heating systems.
What installation methods are available with engineered and solid hardwood flooring?
Solid Hardwood: Solid hardwood floors are installed using nails.
Engineered Hardwood: Engineered hardwood flooring has multiple installation options: staple, glue or float, including our Lock&Fold® technology, available on some products.
What's more durable: solid or engineered hardwood?
Solid Hardwood: Solid hardwood is known for its endurance. Because it is solid through and through, it can be sanded and refinished multiple times during a lifetime. And solid construction holds up well over time. Solid hardwood durability mostly comes down to the wood species and wear-resistance of its protective finish. Harder woods such as Hickory and Oak are more dent resistant, and those with more resilient finishes — like our Lifetime Finish powered by aluminum oxide nanoparticles — will perform best against scratches.
Engineered Hardwood: Engineered wood can be sanded and refinished several times throughout the life of the floor. If your durability concerns are around moisture, humidity or temperature, engineered is the way to go. Its layered construction provides stability against environmental changes. Premium engineered products come with Armstrong Flooring's best warranty and a Lifetime Finish for superior scratch protection.
What types of wood species are available with engineered wood vs. solid hardwood?
Solid Hardwood: We offer solid hardwood flooring in our three hardest and most wear-resistant species: Oak, Maple and Hickory.
Engineered Hardwood: Engineered has multiple species to choose from: Oak, Maple and Hickory, plus softer species like Birch, Cherry and Walnut, and exotic woods like African Mahogany, Acacia and Tigerwood.
What is the thickness of solid hardwood vs. engineered hardwood?
Solid Hardwood: Solid hardwood is traditionally 3/4" thick, except for parquet-style floors which are thinner.
Engineered Hardwood: At 3/8" to 1/2", engineered wood is slightly thinner than solid hardwood. Thicker woods are usually available in premium collections. Some engineered floors have a thicker top hardwood layer that allows them to be sanded and refinished several times. Engineered floors can be a good choice if you need a thinner wood for an existing space — for example, to match the height of an adjoining floor or fit kitchen appliances into tight spaces between countertops and floors.
How does the sound underfoot compare?
Solid Hardwood: As might be expected, solid hardwood sounds and feels decidedly solid when you walk on it.
Engineered Hardwood: Sometimes, engineered floors can sound more hollow than solid under-foot, but that can be addressed by stapling down the planks instead of floating them. Premium engineered flooring is usually thick enough to look and sound just like "real hardwood."
How does the cost of engineered wood flooring compare to solid?
Solid Hardwood: Solid is the gold standard in flooring, and it's usually the most price-premium board for board. There are, of course, many variables: solid hardwood collections can vary in price depending on the warranty, protective finish and how many finishing processes have been used to achieve a particular look. Distressed and scraped styles or those with unique staining techniques will be on the higher end.
Engineered Hardwood: As a whole, engineered tends to be less expensive than solid hardwood, with the exception of premium collections that have a thicker hardwood top layer, uniquely artistic designs and enhanced durability. High-performance engineered products are also more on par with solid pricing.
---
NOTE:
Integrity Flooring does not carry every style of product. Check with us first about a particular product or to see if your product choice is available for special order.
---

---
Armstrong Hardwood Flooring
Natural beauty and lasting durability. The enduring appeal of hardwood flooring is in its timeless look and the value it adds to your home. Armstrong offers the most choices in styles, finishes, and installation options to fit your taste, lifestyle, and budget. But with so many choices, there's a lot to think about beyond choosing the right color and wood species. Armstrong takes the guesswork out of the selection process by explaining the important considerations you need to know before buying.
---
Profile
|
Website