How to Choose the Best Plank Floor
See More about How to Choose the Best Plank Floor >>>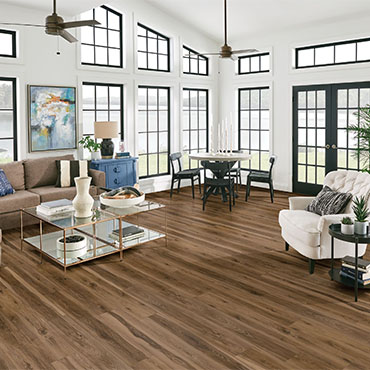 Choosing a floor may seem a bit daunting, especially if you've never done it before. Whether you're a newbie or a pro, understanding more will prepare you to choose the very best floor for your lifestyle, space, and budget.
What's the difference between solid hardwood,
engineered hardwood, and rigid core flooring?
As the name suggests, solid hardwood is a single, solid piece of wood. Its natural simplicity has made it a popular flooring choice for generations, but that same simplicity makes it less than ideal for modern homes. Wood is a naturally porous material, meaning it is soft, extremely prone to denting, and absorbs water like a sponge. All of these attributes are ideal for helping trees grow, but they don't translate well to modern flooring. Floors today need to withstand heavy traffic, drops, scratches, and most importantly, spills.
Engineered wood flooring was created to lower the cost of wood flooring and attempt to fix some of solid wood's shortcomings. It's constructed from inexpensive plywood or particle board and topped with a thin veneer of hardwood. This construction helps with installation flexibility and slightly improves indent performance, but it adds a new set of problems as well. Because the "real" wood part of the floor is just a thin veneer, damage from scratches can be irreparable. Engineered wood floors are still made from porous wood, meaning they can't be subjected to water.
Rigid Core flooring is a category of resilient flooring, and it has been designed from the ground up with modern homes in mind. It's 100% waterproof, easy to install, and provides extreme scratch and indent resistance when compared to solid or engineered wood flooring. It also offers a wide range of design options because it isn't limited to traditional wood species. Its hybrid visuals, exotic species, colors, and textures go above and beyond anything traditional wood flooring can offer.
Where can I install solid hardwood, engineered hardwood, and Rigid Core flooring?
Solid and engineered hardwood floors shouldn't be installed in kitchens, bathrooms, laundry rooms, mud rooms, or anywhere else you might have spills or splashes. Solid hardwood floors also cannot be installed in basements. Rigid Core flooring can be installed in any room or level without issues.
How will they withstand kids? What about pets?
Kids and pets bring excitement and joy to any home, but they can also subject floors to a lot of drops, scuffs, scratches, spills, and accidents.
Both solid and engineered wood flooring should be avoided when kids and pets are in the mix. Their soft natural surface needs to be protected from cleats, claws, spills, drops, and dirty shoes to avoid damage. This means that pet claws need to constantly trimmed, shoes need to be left at the door, and play time needs to be low impact.
However, Rigid Core flooring is designed with these life moments in mind. Its ultra-dense core, hardened wear layer, and waterproof construction let you live in the moment and deal with the mess later.
What factors will affect the durability of my floor?
Hardness rating

Hardwood species used in flooring are given a hardwood hardness rating, which indicates how resistant the wood is to dents and wear. This rating is based off a test called the Janka Hardness Test, and it measures the force needed to press a steel ball into the wood sample. The highest possible score on this test is a little over 5,000, with most traditional solid wood floors scoring in the 1,000-2,000 range. The superior density of Rigid Core flooring would exceed the limitations of the Janka test, and instead a higher impact testing is needed to measure real world performance. Here is how the general hardness of plank flooring ranks:


SPC Rigid Core


Engineered hardwood


Solid hardwood


Overall Thickness

While the overall thickness of flooring is going to vary by category, it is still important to know what is contributing to that thickness. Engineered wood flooring can inflate thickness by adding more layers of plywood or particle board, but still only offer a thin veneer of real wood on top. The dense core allows for Rigid Core floors to be significantly thinner than traditional hardwood floors, with WPC floors being thicker than SPC products. That doesn't mean all Rigid Core floors are made equally though. Just like how engineered hardwood flooring can inflate thickness, Rigid Core flooring can alter the overall thickness by increasing the size of the acoustical padding on the back. While this padding adds a lot of great features, it doesn't need to be any thicker than 1mm in size. When it comes to Rigid Core flooring, the thickness of the core is most important.
Protective Finish

Regardless of the floor, the protective finish will play a large role in how scratch and stain resistant it is. Both hardwood and Rigid Core flooring are available with various types of protective finishes. Rigid Core flooring goes a step beyond hardwood though, and also has a transparent solid wear layer that protects against gouging and deeper scratches.
Can I install my own floor?
A hardwood flooring installation takes time, precision, and know-how to get it right. Even for experienced DIYers, hardwood installations can be challenging. A lot depends on your ability to take the time to learn what you need to know to properly install a hardwood floor, so that it will look and perform beautifully. If you've never installed hardwood you will find it worthwhile to hire a professional installer.
By comparison, Rigid Core flooring is easy to install. The simple locking profile allows for a floating installation with minimal room preparation. Depending on your skill level and the size/shape of your room, you still might want to consider a professional installer.
With so many plank flooring styles, how do I choose the right one?
First step: don't panic. This is a good problem to have. With so many stylish choices, you'll be able to find a floor that looks amazing, fits your design tastes, and meets your installation and durability needs.
Next step: know what to look for. Here are some of the features you need to look for when picking your new floor.


Visual – While hardwood flooring is limited by species and stains, Rigid Core flooring has near limitless options when it comes to flooring that looks like wood. In addition to traditional wood visuals and colors, you can pick from stone looks and even hybrids that marry wood and stones together into unique new options. And best of all you will benefit from a curated look that removes unwanted imperfections like oversized knots, holes, and worming that naturally occurs in hardwood floors.


Waterproof – What does it mean when a floor is waterproof? Simply put, it means peace of mind. A waterproof floor won't swell, buckle, or lose its integrity when wet. Spills and splashes on hardwood floors need to be cleaned up immediately to avoid damage, while Rigid Core floors can be subjected to moisture without concern.


Durability – Durability is the all-encompassing term for how well a floor will hold up to everyday life. Will it survive scratching, staining, gouging, denting, and more? Rigid Core flooring was built with all of these needs in mind while hardwood flooring requires you to change your lifestyle to account for its shortcomings.


Width & Length – Plank flooring comes in a variety of widths and lengths. The most common widths are currently in the 5" – 6" range, but wider widths are rapidly becoming more popular. The length of your floor is also important to consider depending on the size of your space. Hardwood flooring comes in mixed lengths because imperfections are cut out of longer planks during production. Rigid Core flooring is built to size and comes in lengths ranging from 36" up to 80+".


Installation – There is more to consider when it comes installation than how easy it is. Subfloor prep, labor costs, material costs, and time are all big factors to consider. On average, the total cost to install a hardwood floor is significantly higher than the total cost to install a Rigid Core floor.


Warranty & Brand – The value of your floor extends well beyond the floor itself. The people that created, tested, produced, and support it are just as important to consider. You want to make sure you are buying a floor from a manufacturer who you can trust. What kind of testing are they doing to make sure the floor you are buying will last? How can they help you if problems do occur down the road? What does the warranty actually cover? These are important factors to consider, especially when hardwood flooring doesn't meet Rigid Core flooring's abilities in areas like durability, dent resistance, and waterproofing.


---
NOTE:
Integrity Flooring does not carry every style of product. Check with us first about a particular product or to see if your product choice is available for special order.
---

---
Armstrong Hardwood Flooring
Natural beauty and lasting durability. The enduring appeal of hardwood flooring is in its timeless look and the value it adds to your home. Armstrong offers the most choices in styles, finishes, and installation options to fit your taste, lifestyle, and budget. But with so many choices, there's a lot to think about beyond choosing the right color and wood species. Armstrong takes the guesswork out of the selection process by explaining the important considerations you need to know before buying.
---
Profile
|
Website